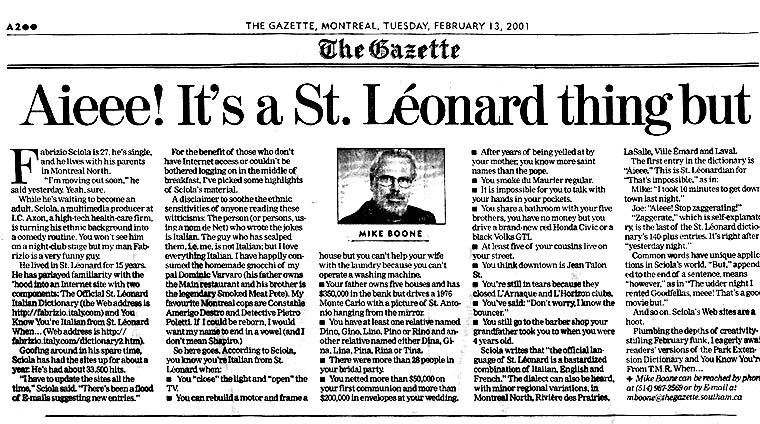 Fabrizio Sciola is 27, he's single and he lives with his parents in Montreal North.

"I'm moving out soon", he said yesterday. Yeah. Sure.

While he's waiting to become an adult. Sciola, a multimedia producer at I.C.Axon, a high-tech healthcare firm, is turning his ethnic background into a comedy routine. You won't see him on a night-club stage but my man Fabrizio is a very funny guy.
He lived in St-Leonard for 15 years. He has parlayed familiarity with the hood into an internet site with two components: The Official St-Léonard Italian Dictionary (the Web address is http://fabrizio.italy.com) and You Know You're Italian from St-Léonard When... (Web address is http://fabrizio.italy.com/dictionary2.htm)
Goofing around in his spare time, Sciola has had the sites up for about a year. He's had about 33,500 hits.

"I have to update the sites all the time," Sciola said. "there's been a flood of E-mails suggesting new entries."

For the benefit of those who don't have Internet access or couldn't be bothered logging on in the middle of breakfast, I've picked some highlights of Sciola's material.

A disclaimer to soothe the ethnic sensitivities of anyone reading these witticisms: The person (or persons, using a nom de Net) who wrote the jokes is italian. The guy who has scalped them, i.e. me, is not Italian; but I love everything Italian. I have happily consumed the homemade gnocchi of my pal Dominic Varvaro (his father owns the main restaurant and his brother is the legendary Smoked Meat Pete). My favourite Montreal cops are constable Amerigo Destro and detective Pietro Poletti. If I could be reborn I would want my name to end in a vowel (and I don't mean Shapiro.)

So here goes. According to Fabrizio Sciola, you know you're Italian from St-Léonard when:

-You "close" the light and "open" the TV.

-You can rebuild a motor and frame a house, but couldn't help your wife with the laundry because you cannot operate a washing machine if your life depended on it.

-Your father owns 5 houses, has $350,000 in the bank, but still drives a big '76 Monte Carlo with a picture of Sant`Antonio hanging from the mirror.

-You have at least one relative named either Dino, Gino, Lino, Pino, or Rino; and another relative named Dina, Gina, Lina, Pina, Rina or Tina.

-There were more than 28 people in your bridal party.

-You netted more than $50,000 on your first communion and more than $200,000 in the envelopes at your wedding.

-After years of being yelled at by your mother, you know more saint names than the Pope.

-You smoke "DuMaurier regular."

-It is impossible for you to talk with your hands in your pockets.

-You share a bathroom with your 5 brothers, have no money, but drive a brand new $25,000 red Honda Civic or Black Volkswagen GTI.

-At least 5 of your cousins live on your street.

-You think "downtown" is Jean-Talon St.

-You`re still in tears because they closed L`Arnaque and L`Horizon clubs.

-You've said "don't worry, I know the bouncer."

-You still go to the same Barber shop your grandfather brought you to when you were 4 years old.

Sciola writes that "the official language of St-Léonard is a bastardized combination of Italian, English and French." The dialect can also be heard, with minor regional variations, in Montreal North, Rivières des Prairies, LaSalle, Ville Émard and Laval.

The first entry in the dictionary is "Aieee." This is St-Léonardian for "That's impossible," as in:

Mike: "I took 10 minutes to get downtown last night."

Joe: "Aieee! Stop zaggerating!"

"Zaggerate," which is self-explanatory, is the last of the St-Léonard dictionary's 140-plus entries. It's right after "yesterday night."

Common words have unique applications in Sciola's world. "But," appended to the end of a sentence, means "however," as in "The udder night I rented Goodfellas, meee! That's a good movie but."

Ans so on. Sciola"s Web sites are a hoot.

Plumbing the depths of creativity-stifling February funk, I eagerly await reader's versions of the Park Extension Dictionary and You Know You're From T.M.R. When...

Mike Boone can be reached by phone at (514) 987-2569 or by E-mail at mboonethegazette.southam.ca